El Chronicle
Squad Builder
23 Jun 2019
A big part of playing El Chronicle is squad building. Trying new heroes and seeing how they fair in the group. This tool can help you conceptualize a squad.
| | |
| --- | --- |
| Tanking: | |
| Healing: | |
| DPS: | |
| Buffs/Debuff/Support: | |
(P) = does physical damage. (M) = does magic damage.
When building a squad, click evaluate too see how they fair in each category. A well formed team should be at least 50% in tank, dps, heals. From there you can decide if you want to help support the team more with a buffer/debuffer or go heavy on DPS.
Note: this evaluation is not an accurate evaluation of your team. It's just to help conceptualize where your teams strengths and weaknesses are and to give you a very rough idea how your team is doing.
Check out some sample squad builds here.


Click a hero below to add it to your squad.
Defensive Tanks:








Offensive Tanks: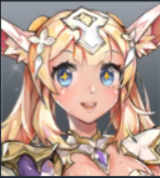 Assassins:










Supporters:







Specialists: